So, after some very disappointing runs at the track (driver issue, to be addressed later Lol) I started thinking about vehicle efficiency. I held my hand to the intake tube and felt how damn hot it was.
I'd been thinking about trying to buy one for a while, or attempt to make one... but had no motivation to try. Tyler with the v6 mustang showed up with one and I was able to have a first hand look at the promises of isolating the intake filter from under-hood temps.
I started with a very very basic cardboard cut-out, trimming the pieces as I tried to get the pieces to fit like a puzzle.
Once I had a basic layout ready, I placed wooden skewers in-between the spaces in the cardboard, this way, I could close the hood and push the skewers down to get a basic imprint of the inside of the hood
With a rough shape of how the box would look, I cut out the more fitted pieces out of cardboard again
Once finished, I took them back to the car - taped the box together and did some more trimming. After which I cut them out in aluminium.
I'm not sure of the grade of aluminium I used, I threw out the wrapper
. It came in a 1ft x 10ft roll, and was thin enough to cut with basic scissors and knives.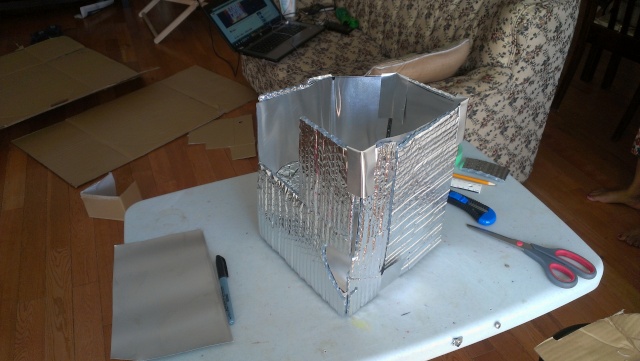 once cut, I covered them in a reflective insulator and then added another layer of aluminium on top of it.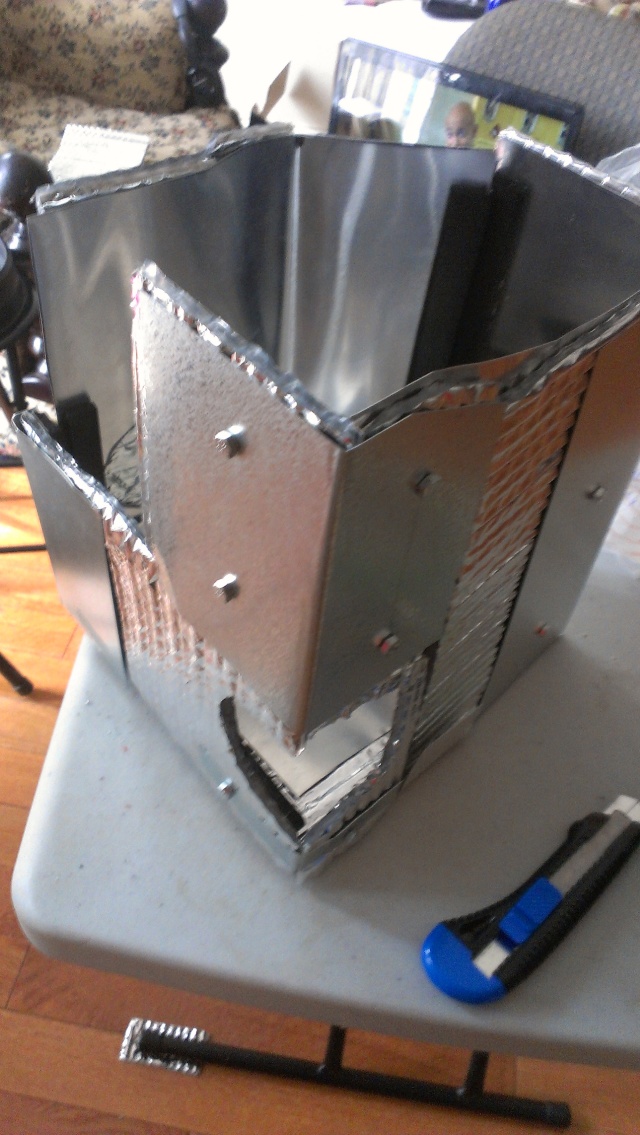 after some more trimming, I had a good firm fit inside the engine bay
The last step was paint, and seals. The Seals came out a little messy in my opinion and will be re-done when I can find another way to clean up the seals
And here are the results,
Before hand, the intake temperatures were 47-55 degrees Celsius while driving, and in the 60s at idle/red lights (no pictures)
And afterwards, with the "cold air box"
At a stop - red light for about 2-3 minutes (this was before the seals)
And driving after about 5 minutes at 60km/h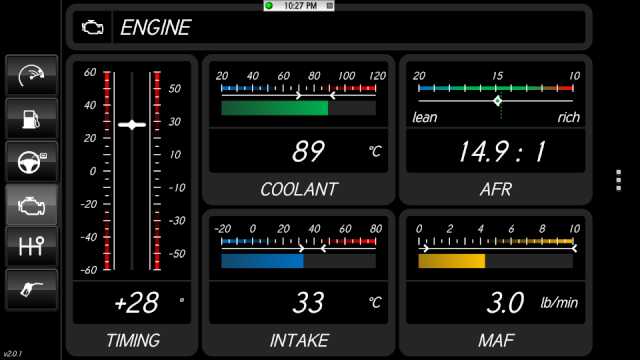 I recently drove to/back from london/grandbend and kept an eye on the numbers while driving there and back. Intake temps were 36 Degrees and the weather outside was only 30 Degrees, so a 6 degree difference - which I consider significant
The second addition to this project will be cold air ducting from underneath the vehicle - and for shits and giggles, I will be wiring up an inline blower fan (for testing) to see if turning it on at a stop will keep intake temps down

Zero

TTS Moderator




Location :

Markham


Age

: 30


Join date

: 2010-06-18


Posts

: 2722



awesome stuff! I think it looks real good, but I guess only perfection will do for you Lol.
is the ducting that's currently there the stock ducting that runs to the stock intake? are you going to be adding your ducting to the stock ducting, or replacing it?

maxima_tyler

TTS VIP




Location :

Sauga


Age

: 27


Join date

: 2011-09-28


Posts

: 640



Haha yeah, it'll bug me until its perfect. The current ducting is using the factory snorkel. I'll be adding secondary ducting. The port for the secondary is on the back, so it'll be out of sight

I'm still contemplating on whether I'll install the ducting-inlet on the front bumper (beside the fog light) or install it in the factory plastic under-engine cover and have it pick up air from under the car

Zero

TTS Moderator




Location :

Markham


Age

: 30


Join date

: 2010-06-18


Posts

: 2722



Is there really any proof this does anything with gains? I saw the guy with the mustang at the tracks saw the box didn't really know what it did but didn't bother to ask.

Curious if it is sealed in won't it restrict airflow when the hood is closed?

Would like to know if you felt any difference

QutaHunter

TTS Rookie




Location :

Toronto


Age

: 27


Join date

: 2014-03-20


Posts

: 19



my air fuel ratios stayed the same, and its using the factory "snorkel" - the factory intake is sealed as well. As long as there's air flowing to the intake, you're good. And, I'm adding a second intake duct from the bottom anyhow xD
As for proof of power, I have none - I did it for the sake of efficiency. I'm assuming...2-3hp
.  We'll see after a tune though..

Zero

TTS Moderator




Location :

Markham


Age

: 30


Join date

: 2010-06-18


Posts

: 2722



a sealed box keeps hot engine temps out from the intake, you want cold air to be sucked in not hot air, thats the whole reason behind an intake in a box. also air/fuel doesn't change because of an intake either

s_moneh

TTS Moderator




Location :

need to know basis


Age

: 27


Join date

: 2010-08-29


Posts

: 365




---
Permissions in this forum:
You
cannot
reply to topics in this forum